Gull Help Line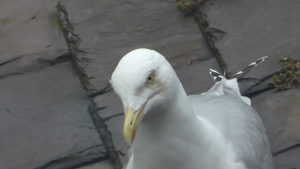 If you suspect you have gulls nesting we can offer a site survey to establish if a full removal service would be needed as it is important that gull work is carried out before there are chicks. Gulls start laying eggs from early May onwards, so don't put off getting in touch with us as the job will become more costly and time consuming for you the longer it is left.
We are fully insured and only act under license on all work to make sure both your selves and us are protected by the work we do.
Reasons to act
There are several reasons why work may be requested and these can be to preserve public health and safety or even to prevent building damage. Others that may affect you could be:
The potential of gulls being very noisy during the breeding and nesting period
The build-up of droppings and nesting materials on your building which may cause a potential health risk
Potential damage caused to your building from nesting material or gulls themselves
Potential risk of swooping on people around your building
Services
Nest removal
Egg removal
Chick removal
Prevention Measures
The best way to deal with any gull work is to prevent nests and eggs from being there in the first place and using preventative methods to act before it becomes a problem. These methods could be either of these:
Bird free fire gel
Nest removal
So if you need professional help with your gull problem get in touch today.